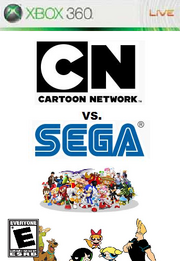 Cartoon Network vs. Sega
is a game created by Sega and Cartoon Network for the Wii U, Xbox One, PC, PlayStation 4, Android, iOS, and the Nintendo 3DS. It is a game that has many new features. It has a decent roster of characters, powerups, and arenas. The game will also include DLC, which is new to the Xbox One, PC, PlayStation 4,
Wii U, Android, iOS, and Nintendo 3DS.
Story
TBA
Characters
Cartoon Network Universe
Finn
Jake
Mordecai
Rigby
The Powerpuff Girls
Ben tennyson
Billy & mandy
Gumball
Darwin
Chowder
Johnny Bravo
Steven Universe
Mac & Bloo
Grim
Dexter
Rex salazar
Sega Universe
Sonic
Tails
Knuckles
Amy
Shadow
Dr. Eggman
Metal Sonic
Amigo
NiGHTS
Reala
Beat
Gum
Billy Hatcher
Aiai
Meemee
Ulala
Stages
Ooo
The City (Regular Show)
Cul-De-Sac
Dexter`s Lab
Marzapan City
Candy Island
Camp Kidney
Endsville
Townsville
Green Hill Zone
Chemical Plant Zone
Stardust Speedway JP
Death Egg Zone
Downloadable Content
Samurai Jack
Courage the Cowardly Dog
Vyse [From Skies of Arcadia]
Opa Opa
Community content is available under
CC-BY-SA
unless otherwise noted.