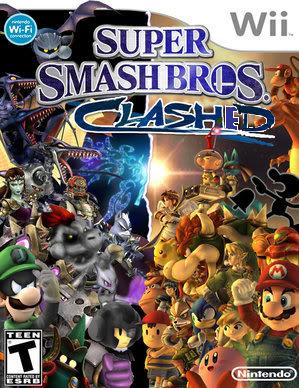 Super Smash Bros. Clashed
is the sixth installment of the Super Smash Bros. series. The game is for the Wii, Xbox 360, PS3, PSP, 3DS, Wii U, Xbox 720, PS4 and PC. The game still has some characters from
Super Smash Bros. Unleashed
and some new ones. The game is the first game in the Super Smash Bros. series to also be for the PSP and PC also the game has the 2nd most characters in the entire series
List of Playable Characters
Mew2king
Mario
Luigi
Mr. L
Peach
Bowser
Yoshi
Birdo
Toad
Pauline
Wario
Waluigi
Daisy
Geno
Rosalina
supermarioglitchy4
MarioMario54321
starman3
MoBrosStudios
Count Bleck
Vivian
Wart
Paper Mario
Paper Luigi
Paper Peach
Paper Bowser
Fawful
Kirby
King Dedede
Meta Knight
Galacta Knight
Sword Knight & Blade Knight
Donkey Kong
Diddy Kong
King R. Rool
Candy Kong
Dixie Kong
Osaka
Chiyo
Yomi
Tomo
Sakaki
Kagura
Hedgehog (Hedgewars)
Ryuji
Taiga
Minori
Pac Man
Woody
Buzz Lightyear
Jessie
Gru
Vector
Ness
Lucas
Paula
Claus
Samus
Zero Suit Samus
Dark Samus
Ridley
Master Cheif
Spider Man
Iron Man
War Machine
Spongebob Squarepants
Spingebill (Spongebob with a YouTube Poop- styled moveset)
Patrick Star
Mr. Krabs
Sandy Cheeks
Plankton
Imitation Krabs
Squidward
Morbid Squidward/Skidwarde/Skodwarde
Master Shake
Frylock
Meatwad
Little Mac
Batman
Robin
Johnny Test
Dukey
Susan Test
Mary Test
Homer Simpson
Bart Simpson
Marge Simpson
Lisa Simpson
Peter Griffin
Lois Griffin
Brian Griffin
Stewie Griffin
Chris Griffin
Meg Griffin
Joe Swanson
Glenn Quagmire
Cleveland Brown
Fox
Wolf
Falco
Peppy
Krystal
Ice Climbers
Mr. Game and Watch
R.O.B.
Konata
Kagami
Tsukasa
Miyuki
Patricia
Dexter
Mandark
Darth Vader
Anakin Skywalker
Luke Skywalker
Yoda
Emperor Palpatine
Obi-Wan Kenobi
Han Solo
Princess Leia
Ahsoka Tano
Sonic the Hedgehog
Classic Sonic
Tails
Classic Tails
Dr. Eggman
Classic Eggman
Shadow the Hedgehog
Silver the Hedgehog
Amy Rose
Knuckles the Echidna
Cream the Rabbit
Rouge the Bat
Blaze the Cat
E-102 Omega
Finn the Human
Jake the Dog
Princess Robot Bubblegum
Marceline
Ice King
Olimar
Dry Bowser
Dry Bowser Jr.
King Koopa (cartoon version)
Boba Fett
Spider Man
Venom
Carnage
Dr. Octopus
Green Goblin
Ratchet and Clank
Crash Bandicoot
M. Bison
Ryu
Mecha Mario
Mecha Sonic
Darth Revan
Sora
Riku
Mickey Mouse
Donald Duck
Goofy
Dolan Duk
Gooby
Spoderman
Bogs Binny
Slonderman
Felix The Cat
Godzilla
Mothra
King Kong
King Ghidorah
Mechagodzilla
Mecha King Ghidorah
Baragon
Gamera
Bagan
Rodan
Anguirius
Gigan
Megalon
Jet Jaguar
Destoroyah
Space Godzilla
Biollante
Orga
Titanosaurus
Battra
King Caesar
Ultraman
Ultraman Taro
Ultraman Ace
Father of Ultra
Megaman
X
Zero
Roll
Dante
Nero
Vergil
Chowder
Shnitzel
Issac
Timmy
Cosmo
Wanda
Jorgan Von Starngle
Mr. Crocker
Tootie
Mii (moveset depends on colour)
Earthworm Jim
Ami
Yumi
Gannon
Wage
Mitchell
Water Kid
Funky Kong
Pac Man
mrs.pac-man
chomp-chomp
pac-man jr
pooka
Bomberman
Cloud Strife
Altair
Megamind
Metro Man
Titan
Minion
Rayman
Optimus Prime
Megatron
Sentinel Prime
Shockwave
Soundwave
Devastator
Fallen
Blackout
Bumblebee
Bass
Pikachu
Lucario
Jigglypuff/Purin
Darkrai
Zoroark
Golurk
Heracross
Blaziken
Hawlucha
Hatsune Miku
Kaito Shion
Rin Kagamine
Luka Megurine
Gumi
Haku Yowane
Neru Akita
Patrick Bateman
John Freeman
Gordon Freeman
Ainsley Harriot
Gabe Newell
Dante (DmC)
Vergil (DmC)
Twilight Sparkle
Betty Spaghetti
Kamen Rider
Kamen Rider Black
Kamen Rider Agito
Kamen Rider Decade
Osama Bin Laden
Spike Spiegal
Carl Brutananadilewski
Gandalf the Grey
Gandalf the White
Black Knight
Benito Mussolini
The Blue Meanie
Cowboy Curtis
Jambi the Genie
Robocop
Terminator
Captain Kirk
Darth Vader
Lo Pan
Superman
Wonder Woman
Every single Power Ranger
Bill S. Preston
Theodore Logan
Spock
The Rock
Doc Ock
Hulk Hogan
Blackula
Le Epic Reddit Army "My Big Fat Hairy Dick" Invasion is Le Commencing xDD
Vector the Crocodile
Espio the Chameleon
john cena
way mestiro
Rigby
Mordecai
Benson
Skips
Pops
joker
Comander Shepard
sky does minecraft
deadlox
ASF jermome
Pewdiepie
Builderman
Shedlestsky
TheGamer101
Sorcus
Notch
Steve (Minecraft)
Leopold Slikk (Angry German Kid)
Harold Slikk (Angry German Kid's Dad)
Ronald Ramirez (Angry Dominican Kid)
Stages
Bold= DLC
Italic= Unlockable
Hyrule Castle

Mushroom Kingdom
Skyworld
Dream World
Delfino Plaza
Distant Planet
Bowser's Castle
50m
100m
75m
Spear Pillar
WarioWare Inc.
Pirate Ship
Final Destination
Final Destination 64
Wuhu Island (Wii Sports Resort)
Summit
Facing Worlds
PictoChat
New Pork City
Mushroomy Kingdom
Mario Circuit
Pokemon Stadium 3
Snowstorm
Death Star
Porkbelly
Hoth
Bikini Bottom
Rock Bottom
Kelp Forest
Mr. Bones Wild Ride
Underworld
Bridge of Eldin
Smashville
Lylat Cruise
Mustafar
Flat Zone 3
Donkey Kong Island
Rumble Falls
Halberd
Onett
Giygas' Lair
The Moon (Majora's Mask)
Corneria
Pac-Land
Erwin's Lair
Bob-Omb Battlefield
Dire Dire Docks
Rainbow Cruise
DA GLITCH DIMENSION
Brinstar
Danville
Cul De Sac(Ed Edd n Eddy)
25m
Luigi's Mansion
Port Town Aero Dive
Mario Bros.
Tertis
RuneScape
Peach's Castle
Chiyo's Summer Home
Mount Olympus
The Park(Regular Show)
The Temple
Palace of the Fates
Green Hill Zone
Emerald Hill Zone
Chemical Plant Zone
Wacky Workbench
Stardust Speedway
Metallic Madness
Angel Island Zone
Daisy's Palace
Six King Labryinth
Incedia Castle
Ferox Arena
The Shake Dimension
Minus World
Omega Doomship
Frigate Orpheon
Explosions as far as the eye can see
Rage Comic
Outside McDonalds
A City You Can Destroy (A city smaller than any character controlled by the player, complete with destroyable buildings)
Nether
Aether
Skyblock
The End
Sword Fights on the Heights IV
Crossroads (Roblox)
Greenwood Town
Robloxity
The Corrupted Subspace Final Destination
Bosses
Demon Dragon
Ao Oni
Sonic.exe
supermarioglitchy3
Hades
Giygas' Nightmare
Rugal Bernstein
Omega Rugal
Hydra
Erwin
Giga Hand
Origin Hand
Maniac Hand (resurrected Crazy Hand)
Holy Hand
Zenith Hand (ressurected Master Hand)
Mystic King Harkinian
Morbid Krabs
Super Mechagodzilla
Orochi
Mizuchi
Crazy Catastrophe
Shadow Lugia
Yvetal
Yellow Devil
Galactus
Apocalypse
Onslaught
Zorm
Darth Maul
Megatron
Dora the Explorer

Excellent Ronald McDonald

Gold Miku
Shin Akuma/Shin Gouki
God/ Ultimate Rugal
Undead Tabuu (Final Boss)
Final Hand (True Final Boss)
CORRUPT BABAR (Extra Boss)
CORRUPT MOARBID KRABHZ (Extra Boss)
Perfect Telamon Shedletsky (Extra Boss)
God Luigi (Extra Boss)
God Rabbit (Extra Boss)
PERFECT CORRUPTED GOD MICHAEL ROSEN (Final Extra Boss)
Items
Container Items
Barrels
Crates
Party Balls
Capsules
Eggs
Sliding Boxes
Sandbags
Battering Items
Lightsabers
Beam Swords
Energy Swords
Hyper-Dildos
Hammer
Golden Hammer
Home-run Bats
Fans
Star Rods
Parasols
Shooting Items
Ray Guns
Fire Flowers
Super Scopes
Dragon-Dildo Crossbow
Cracker Launchers
Projectile Items
Green Shells
Red Shells
Poke Balls
Bomb-ombs
power-pellets
Flippers
Bumpers
Barrel Canons
Pitfalls
Soccerballs
Footballs
Baseballs
Kittens
Blast Boxes
Springs
Hot Heads
Banana Peels
Dragon Dildos
Smart Bombs
Smoke Balls
Deku Nuts
Gooey Bombs
Motion-sensor Bombs
Performance Items
Smash Balls
Starman
Warp Stars
Dragoon
Super Mushrooms
Poision Mushrooms
Viagra
Metal Boxes
Screw Attacks
Cloaking Devices
Bunny Hoods
Timers
Franklin Badges
Lightning Bolts
Superspicy Curry
Cialis
Recovery Items
Food
Maxim Tomatoes
Sushi
Donuts
Krabby Patties
Team Healers
Medicine
Heart Containers
More Viagra
Jawbreakers
Assist Trophies
Osaka
Chiyo
Stewie
Brian
Minori
Ryuji
Shake King
Toad
Edd
Eddy
Toadette
Waluigi
Daisy
Dry Bowser
Viagra
Ferb
Vanessa
Tails
Rouge
Clone Commander Cody
Chris Redfield
Sonichu
shit
Anti-Venom
Cheetah (DC Universe)
Albert Wesker
The Flash
Reverse Flash
Reviews
XBOX POWER
"What piece of edgy shit this is. Who's up for some Halo 4?!"

Tyler Durdan Monthly
"I could cock my soak to this"
Nintendo Power
What an awsome game!
Playstation Place
There's not alot of stuff to say about the game, but it's still a really cool game.
/v/
"The best game ive ever played but is let down by its artifical charecters and diffuculty
/vg/

9.5/10, it's okay.
/h/
"Lol read the rules fag NO GOOD PORN ONLY REPOSTS hurr I totally am a mod just without a tripcode
(USER WAS BANNED FOR THIS POST)
Chad warden
i need to shoot sum niggaz
IGN
Despite several obvious and gamebreaking flaws, Super Smash Bros. Clashed™ features superior autism-based combat.
08/10