The Xbox 720 is a 2019 video game system that is the successor to the Xbox One from Microsoft. The game has 137 games released for it as of June 2013. The game system was sold for $192.99, before a price cut in December 2020 to $159.99. Some games are new and some games were re-relased for the Xbox 720.
Gamepad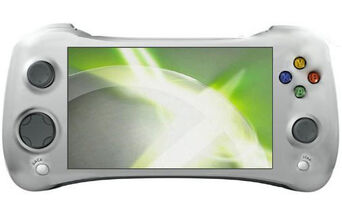 For Xbox gamers and fans that have long awaited for the next generation of Xbox One, here is a bit mind boggling comcept of Xbox 720, as described by Xbox World magazine to come with a tablet-like touchscreen display controller, with 'a bit' similar to Wii U Gamepad Home video game console.
The touch panel is na addition to the motion detecting Kinect sensor that allow users to operate the Xbox 720's console. An concept at this stage, no official announcement from Microsoft yet regarding this Xbox 720 would be the final one or whether it is being prepared for production any time soon. But according to the magazine, Microsoft is currently testing a tablet-like controller that likely to come with augmented reality, directional sound with and outlook similar to Nintendo Wii U Gamepad.
Games
Saints Row The bitch
Saints Row 2
Saints Row Portable
Sega Soccer
Sonic and All-Stars Racing Transformed
Rollercoaster Tycoon 4
Call of Duty: Black Ops Redemption
Family Guy: Blue Harvest the Video Game
Invader Zim: The Video Game
Sonic Adventure X
Tails the Fox
Tomb Raider Underworld
Final Fantasy vs Kingdom Hearts
Kingdom Hearts Ultimate Battle
Club Penguin
Bomberman Kart
Halo 4 Portable
Assassin's Creed 5
MySims Agents
Knuckles the Echidna
Sonic the Hedgehog 5
Call of Duty Modern Warfare 4
Counter Strike Mission
Halo Wars
Grand Theft Auto Chinatown Wars
Gannon X Brawl
Gannon X: Rise Of The Pixel King
Gannon X Allstars Rumble
Yellow Bear: Attack Of The Bandit Pirates
HiHi Puffy AmiYumi: Rock Em' Out!
Grand Theft Auto 6
Sonic Runners
Trivia
This is the first and only Microsoft handheld system
This system has more Sonic games than the Xbox 360 or Xbox One


Community content is available under
CC-BY-SA
unless otherwise noted.